Our Dance Educator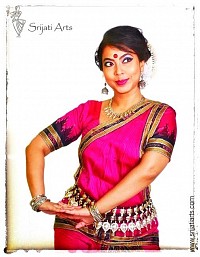 Srinwanti Chakrabarti
Our principal dance educator is Srinwanti Chakrabarti.Srinwanti is an internationally acclaimed Odissi Dancer, an  innovative choreographer and dance educator. She has more than 20 years of dance teaching experience to all age groups in different schools and universities both nationally and internationally. She is also the artistic director of  Srijati  Arts, a centre for dance and self expression which started its journey in 2002. She is a dance influencer committed to create more awareness of dance wellness especially via Indian classical dance which can be imbibed as a mode of self-expression by all irrespective of age and gender.Srinwanti has given well received Odissi recitals , lecture demonstrations and workshops in over 20 countries.
USA,Canada,England,Italy,France,Sweden,Switzerland,Austria,Germany,Belgium,Romania,Greece,South Africa,China are the ones to name a few.She has conducted lecture demonstrations and workshops at University of Chicago, University of Fort Lauderdale,University of Witwatersrand etc.Our Online platform for Odissi digital learning which started in 2010 is dedicated to encourage dance enthusiasts from all over the world to explore and experience Odissi.To find more about Srinwanti,click on 👉🏼Srinwanti Chakrabarti 
Our dancing groups are based out of Bengaluru, Chennai, Paris, London and Athens.